Congress of Counties
January 12-13, 2018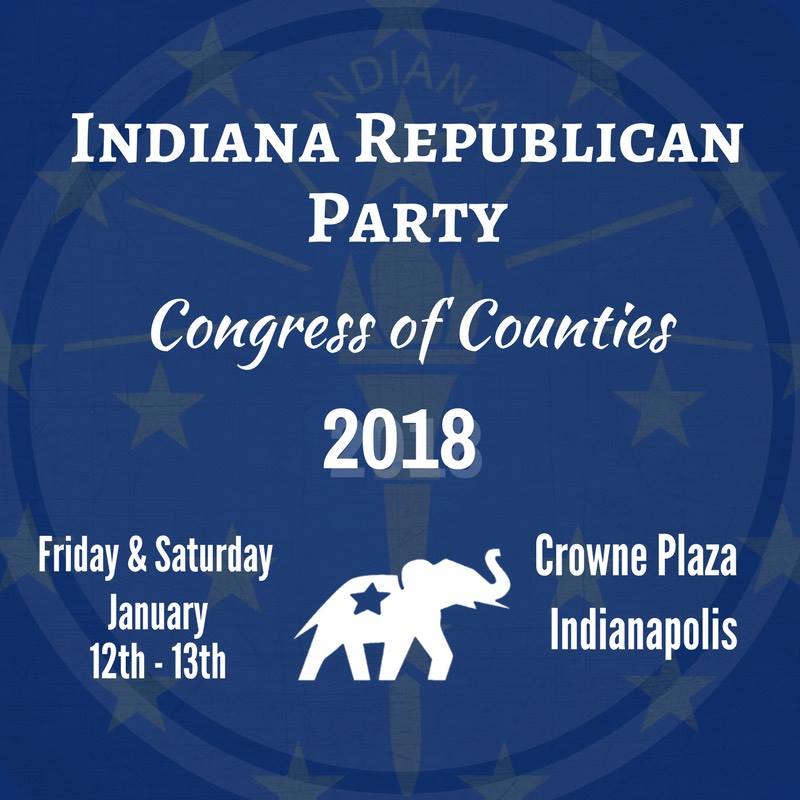 Congress of Counties is back! The Indiana Republican Party will be hosting Congress of Counties, a two-day training event for party leaders, candidates and grassroots activists, on January 12-13 at the Crowne Plaza in downtown Indianapolis. Stay tuned to this page for the latest news and information regarding this high-impact, informational event.  
Reserve Your Spot at Congress of Counties
Reserve your spot at Congress of Counties for $85! That includes all sessions and panels, an exclusive Friday night reception and lunch on Saturday.
Click here to secure your spot!
 
Omni Severin Hotel Room Block Rate - Just $164!
Due to overwhelming demand, our block at the Crowne Plaza is full. But don't worry, we have released a new block of rooms at the Omni Severin Hotel - right across the street! - for only $164. You must click here to receive this special discounted Congress of Counties rate. Please note it is only good on Friday evening.
 
Congress of Counties Sessions, Presenters & Special Guests
Friday, January 12
12 p.m. - Congress of Counties Check-In Begins & Networking Lounge Opens
2:30 p.m. - 5:30 p.m.: Walk and phone app demonstrations
2:30 p.m. - Opening Sesssion: Kicking Off 2018 & A Congress of Counties Overview
Chairman Kyle Hupfer, Vice Chair Leah McGrath, Pete Seat, Matt Huckleby, Alex Johnson
3 p.m.: Breakout Session #1
| | |
| --- | --- |
| Making the Decision: Recruiting Candidates & Launching a Campaign | Panel Discussion with Jennifer Hallowell, Mike Gentry and Anne Hathaway; Moderated by Kyle Hupfer |
| Understanding Social Media: Facebook, Twitter & Snapchat | Presentation by Holly Gillham and RNC's Michael Joyce |
| Republican Leadership Initiative | Alex Johnson and RNC's Zach Obermiller |
| Campaign Finance & Fundraising | Presentation and Q&A with Tracy Smith and Maren Patterson |
4:15 p.m.: Breakout Session #2
| | |
| --- | --- |
| Communications Strategies for Parties & Campaigns | Panel Discussion with RNC Communications Staff and Holly Gillham; Moderated by Pete Seat |
| Election Administration | Presentation and Q&A with Brad King and Dale Simmons |
| Data Center: The Basics | Presentation by Stephanie Beckley and Andrew Johannes |
| State Party Rules | Presentation & Q&A with Matt Huckleby and Barb McClellan |
5:30 p.m. - Friday Night Reception Featuring Our 2018 Statewide Ticket 
Sponored by and honoring Secretary of State Connie Lawson, Treasurer of State Kelly Mitchell and Audtior of State Tera Klutz
Featuring special guests Governor Eric Holcomb & Lt. Governor Suzanne Crouch
Saturday, January 13
8 a.m. - Congress of Counties Check-In Opens & Networking Lounge Opens
8 a.m. - 12 p.m. - Walk and phone app demonstrations
8:30 a.m. - Breakout Session #3
| | |
| --- | --- |
| County Chairs Only: Trials, Tribulations & Best Practices | Panel members to be annoucned soon; Moderated by Kyle Hupfer |
| State Party Rules  | Presentation & Q&A with Matt Huckleby and Barb McClellan |
| Republican Leadership Initiative | Matt Organ and John Pollack |
| Defeating Joe Donnelly: The Plan | Presentation by Pete Seat and RNC's Steven Ostrow |
9:35 a.m. - Breakout Session #4
| | |
| --- | --- |
| Inside the General Assembly: What's On The Horizon | Panel Discussion with Speaker Brian Bosma and State Senator Brandt Hershman; Moderated by Abdul Hakim-Shabazz |
| Data Analytics & GOP Data Center: In-Depth | Presentation and Q&A with Stephanie Beckley and Andrew Johannes, RNC's Tyler Church |
| Communications Strategies for Parties & Campaigns | Panel Discussion with RNC Communications Staff and Holly Gillham; Moderated by Pete Seat |
| Campaign Finance & Fundraising | Presentation and Q&A with Mindy Colbert,Tracy Smith and Maren Patterson  |
10:50 a.m. - Breakout Session #5
| | |
| --- | --- |
| County Officer Training: The Roles & Responsibilities  | Barb McClellan, Danielle Zagone |
| Republican Leadership Initiative  | Matt Huckleby and Stephanie Beckley |
12 p.m. - Lunch & Special Guest Speakers (to be announced soon!)
*Note: Schedule & presenters are subject to change