Congress of Counties
January 12-13, 2018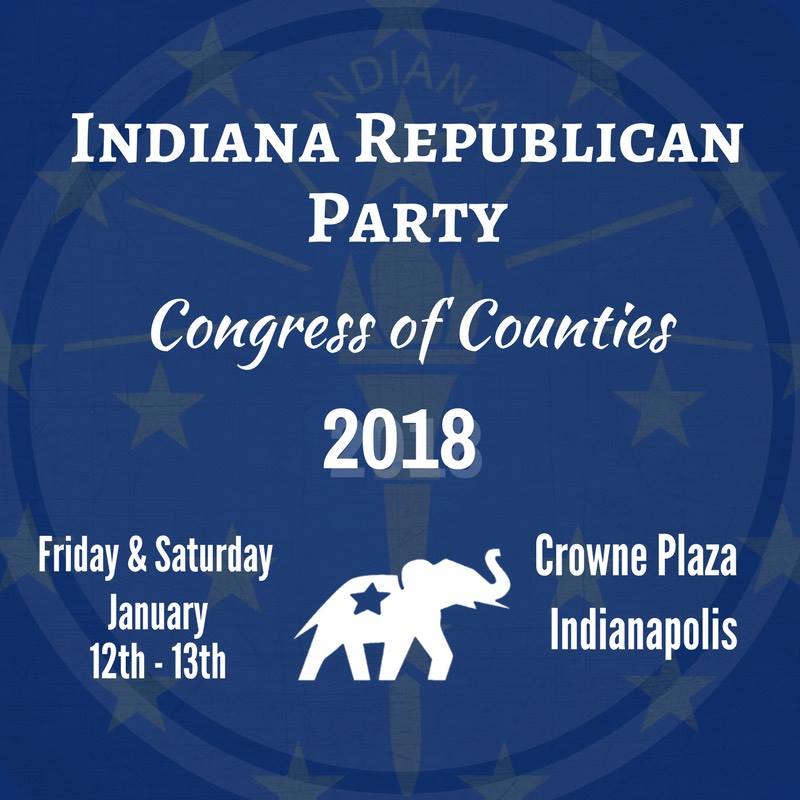 Welcome to the 2018 Congress of Counties! Check out our full schedule, and select your must-see breakout sessions and events. With more than 500 Hoosier Republicans registered to attend, get ready for a packed conference and a great weekend learning the grassroots skills we need to deliver more Republican victories up and down the ballot in 2018!
There's still time! If you haven't registered yet, there's still standing room only tickets available for our U.S. Senate Straw Poll on Saturday. Register here NOW! 
Congress of Counties Sessions, Presenters & Special Guests
Friday, January 12
12 p.m. - Congress of Counties Check-In Begins & Networking Lounge Opens
2:30 p.m. - 5:30 p.m.: Walk and phone app demonstrations
2:30 p.m. - Opening Sesssion: Kicking Off 2018 & A Congress of Counties Overview
Featuring Chairman Kyle Hupfer, Vice Chair Leah McGrath and U.S. Senator Todd Young
3 p.m.: Breakout Session #1
Making the Decision: Recruiting Candidates & Launching a Campaign

Panel Discussion with Mike Gentry, Jennifer Hallowell and Anne Hathaway

Moderated by Kyle Hupfer

Understanding Social Media: Facebook, Twitter & Snapchat

Presentation by Holly Gillham and RNC's Michael Joyce

Republican Leadership Initiative

Alex Johnson and RNC's Zac Obermiller

Campaign Finance & Fundraising

Presentation and Q&A with Tracy Smith and Maren Patterson
4:15 p.m.: Breakout Session #2
Communications Strategies for Parties & Campaigns

Panel Discussion with Holly Gillham and RNC's Ellie Hockenbury and Michael Joyce

Moderated by Pete Seat

Election Administration

Panel discussion and Q&A with Brad King, Dale Simmons, Tom John & David Brooks

Moderated by Matt Huckleby

Data Center: The Basics

Presentation by Stephanie Beckley and Andrew Johannes

State Party Rules

Presentation & Q&A with Barb McClellan and Danielle Zagone
5:30 p.m. - Friday Night Reception Featuring Our 2018 Statewide Ticket 
Sponsored by and honoring Secretary of State Connie Lawson, Treasurer of State Kelly Mitchell and Audtior of State Tera Klutz
Featuring special guests Governor Eric Holcomb & Lt. Governor Suzanne Crouch
Featuring The Indy Nile Band, with RNC National Committeeman John Hammond
Saturday, January 13
8 a.m. - Congress of Counties Check-In Opens & Networking Lounge Opens
8 a.m. - 12 p.m. - Walk and phone app demonstrations
8:30 a.m. - Breakout Session #3
County Chairs Only: Trials, Tribulations & Best Practices

Panel discussion with Pat Brown (LaGrange), Barbra Hackman (Bartholomew), Don Hayes (Dubois) and Ethan Manning (Miami)

Moderated by Kyle Hupfer

State Party Rules 

Presentation & Q&A with Matt Huckleby and Barb McClellan

Republican Leadership Initiative

Matt Organ and John Pollack

Defeating Joe Donnelly: The Plan

Presentation by Pete Seat and RNC's Steven Ostrow
9:35 a.m. - Breakout Session #4
Inside the General Assembly: What's On The Horizon

Panel Discussion with Speaker Brian Bosma and State Senator Rod Bray

Moderated by Abdul Hakim-Shabazz

Data Analytics & GOP Data Center: In-Depth

Presentation and Q&A with Stephanie Beckley and Andrew Johannes, RNC's Tyler Church

Communications Strategies for Parties & Campaigns
Panel Discussion with Holly Gillham and RNC's Ellie Hockenbury and Michael Joyce

Moderated by Pete Seat

Campaign Finance & Fundraising

Presentation and Q&A with Mindy Colbert,Tracy Smith and Maren Patterson 
10:50 a.m. - Breakout Session #5
County Officer Training: The Roles & Responsibilities

Barb McClellan, Danielle Zagone

Republican Leadership Initiative 

Matt Huckleby and Stephanie Beckley

Getting to 50 Percent +1: Building Lists & Targeting Voters

Panel discussion with Michael Bir (Majority Strategies), Jean Ann Harcourt (Harcourt Industries), Kyle Kasting (Midwest Communications) and Josh Kelley (Mark It Red)

Moderated by Kyle Walker
12 p.m. - Lunch
Featuring remarks from U.S. Senate candidates former State Rep. Mike Braun, Andrew Horning, Mark Hurt, Congressman Luke Messer, Congressman Todd Rokita and Andrew Takami 
U.S. Senate straw poll immediately follows remarks from candidates