2020 Indiana Republican State Convention
#INDGOP20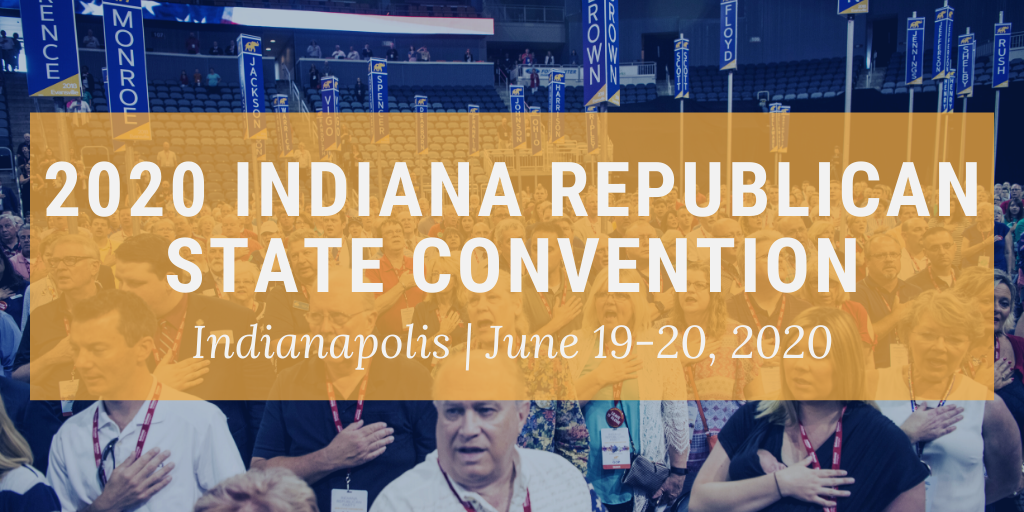 We're excited that the 2020 Indiana Republican Party State Convention is set -- and we're returning to Indianapolis! Join us on June 19-20 as Republicans from across Indiana convene for a weekend to celebrate the results our party's leaders continue to deliver for Hoosiers throughout the state. 
Dates & Location:
June 19-20, 2020
Indiana Convention Center
100 S. Capitol Ave.
Indianapolis, IN 46225
Delegate Registration:
If you will be a delegate to this year's convention, please proceed to pay your $100 delegate fee.
If you'd prefer to pay by check, please make your check payable to "Indiana Republican State Committee." It can be mailed to:
Indiana Republican Party
Attn: Mindy Westrick Brown
101 W. Ohio St., Suite 2200
Indianapolis, IN 46204
Volunteer at State Convention:
Interested in voluteering at the 2020 Indiana Republican State Convention? An event like this isn't possible without the help of our Republican team! Fill out this form here, and we'll be in touch with more details about voluneering. 
Official Call for Convention:
The Indiana Republican Party officially released the call for its 2020 convention in September 2019. You can view the official call here -- which includes the number of delegates allocated to each county.
Book Your Hotel:
The Indiana Republican Party has secured room blocks at two hotels in downtown Indianapolis. These room blocks are now open.
Have questions about state convention? Contact Danielle Zagone at dzagone@indiana.gop if you're a county officer or delegate. If you're a member of the media, please contact Jake Oakman at joakman@indiana.gop.