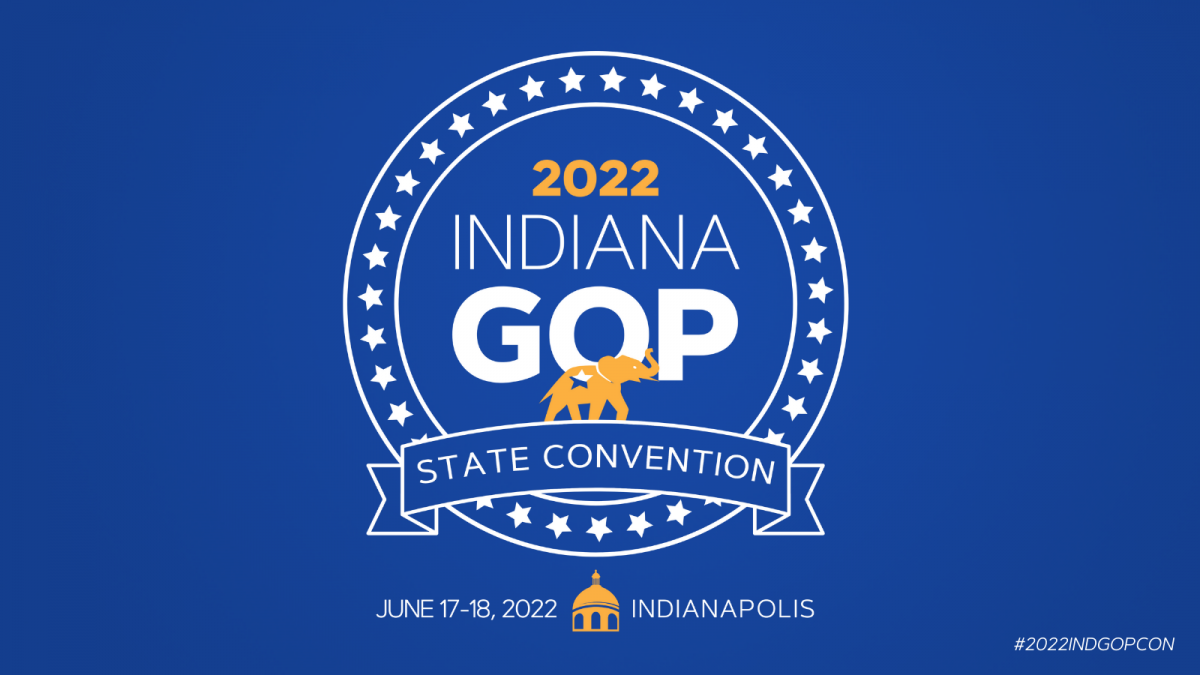 TO ALL INDIANA REPUBLICANS AND THOSE WHO WISH TO AFFILIATE:
In compliance with the provisions of the Indiana Election Code and pursuant to the Rules of the Republican Party of Indiana, adopted by the Indiana Republican State Central Committee, and pursuant to the resolutions of said Committee, a state convention will be held on Friday, June 17 through Saturday, June 18, 2022, for the purpose of nominating a candidate for each of the following offices:
     • Secretary of State
     • Auditor of State
     • Treasurer of State
All matters pertaining to the holding of the state convention not provided for by law shall be controlled by the Rules of the Indiana Republican State Central Committee and by such rules as may be adopted by the convention.
The convention will be held at the Indiana Farmers Coliseum, located at 1202 E 38th St., Indianapolis, IN 46205.
DELEGATE COUNTS BY COUNTY
PAY YOUR DELEGATE FEE
For payment by an individual, please click here. Please note: If paying for multiple individuals, you must complete separate transactions. 
For payment by a campaign or party committee, please click here.
NOTE: If you're having trouble paying on the WinRed platform, clear your browser's cache and refresh the page. Details on how to do that can be found here.
GUEST TICKET PROCESS
The guest fee for the 2022 Indiana Republican Party State Convention is $60; the guest fee for only the Friday night reception is $30.
For payment of a guest fee, please click here.
Indiana Republican Party Rule 7-28 permits approved guests to attend the state convention. Prospective guests must be a "Qualified Primary Republican" and will need to be sponsored by their local county chair and/or a convention delegate in order to attend.
The Indiana Republican Party will have final approval of all guests.
All guest submissions may be sent to Aaron Minnich at aminnich@indiana.gop.
Deadline for submission is 5 p.m., Friday, June 3, 2022.
Rule 7-28: "Admission to the State Convention shall be by ticket, which shall be issued to the delegates, news media, and guests invited by the State Committee. These tickets shall be signed by the State Chairman and attested to by the State Secretary."
PRELIMINARY SCHEDULE OF EVENTS
Friday, June 17, 2022
Crown Plaza Hotel
5:30 p.m.: Reception begins

7 p.m.: Hospitality suites open
Saturday, June 18, 2022
Indiana Farmers  Coliseum
10 a.m.: Convention convenes 
ACCOMODATIONS FOR CONVENTION (SPACE IS LIMITED)
Embassy Suites by Hilton
110 W. Washington Street
Indianapolis, IN 46204
Click here for reservations
JW Marriott
10 S. West Street
Indianapolis, IN 46204
Click here for reservations
The Westin
241 W. Washington Street
Indianapolis, IN 46204
Click here for reservations
CONTACT THE INDIANA REPUBLICAN PARTY
Aaron Minnich
812-786-0512
101 W Ohio St., Indianapolis, IN 46204
aminnich@indiana.gop