Indiana Republican Diversity Leadership Series
2021 Inaugural Class
 Tiffanie Ditlevson
Tiffanie A. Hill Ditlevson is an Air Force Veteran (Major), entrepreneur, and real estate professional in Hamilton County. Her current role provides an opportunity to focus her skills on improving both her community and the lives of her clients. 
Ditlevson's professional experiences include: service and resource delivery to combat forces, health care management, marketing and new product launch, relationship building, group leadership, and complex problem solving. 
Ditlevson earned her undergraduate degree and U.S. Air Force Reserve Officer Training Commission at the University of North Carolina in Chapel Hill and completed a Masters of Business Administration at Indiana Wesleyan University.
Ditlevson currently serves as Commander of The Veteran's of Foreign War Post 1120 and the Vice President of the Catholic Charities of Indianapolis Agency Council.
Ditlevson's awards include a New York Film Festival Silver Medal, a Meritorious Service Medal (twice awarded), The Air Force Innkeeper Award and Company Grade Officer of the Year.
 Vittorio D'Uva
Vittorio D'Uva is the internet manager of Royal on the East Side, an imported luxury car dealership in Bloomington.
D'Uva is originally from Mississippi, but as a child emigrated to Venezuela, where he spent 19 years. While in Venezuela he had the opportunity to learn Italian at Pompei Charter School and initiate his studies on actuarial science. He was also able to work with the education company Kaplan International on their English Abroad division as a bookkeeper. 
Presented with the opportunity to continue his studies in the United States, D'Uva moved to Bloomington where he was able to obtain an associate's degree in business from Ivy Tech Community College. While attending college, D'Uva was also able to develop his managerial skills as a team leader at Chick-fil-A.
 Cody Eckert
Cody Eckert most recently worked for the Indiana House of Representatives as a senior legislative assistant with the Republican Caucus. During session, he has assisted the majority chief counsel and the chairmen of the Judiciary and Government & Regulatory Reform committees. Eckert also worked directly with sitting representatives Ann Vermilion, John Young, and Jerry Torr. He has spent the past seven legislative sessions in the Statehouse, providing administrative assistance, staff training and development, and policy analysis.  
In 2019, Eckert became Indiana's first openly LGBT, elected Republican in the state, winning a seat on Greencastle City Council while helping to earn the council's first Republican majority in decades. He serves on the committee responsible for crafting the city's budget. His proudest accomplishment on the council is passing a salary ordinance ensuring the city's public safety officers' salaries were raised in order to better retain officers and fully fund the brave men and women responsible for protecting the citizens of Greencastle. 
Originally from northeast Indiana, Eckert grew up in Huntington County where he excelled in academics, 4-H, and football. He has since put down roots in Putnam County with Joel, his boyfriend of over five years.
Eckert is a graduate of the University of Notre Dame and IU Robert H. McKinney School of Law.
 Michael Garza
Michael Rafael Garza is the administrative assistant for Decatur Main Street and also assists the Decatur Chamber of Commerce. In his role, he has worked to further Decatur Main Street's mission to revitalize the downtown area of Decatur and help to promote local businesses. 
Garza's experience also includes working as a coordinator for Big Brothers Big Sisters of Northeast Indiana during their 2017 Bowl For Kid's Sake event. He has also previously held internships at the Indiana Senate, Todd Young campaign for the U.S. Senate and the Decatur Chamber of Commerce. 
Garza is a graduate of Bethel University, where he studied business administration and economics. He is a resident of Adams County.
 James Jackson
James W. Jackson is currently the Lead Pastor of Fervent Prayer Church. Pastor Jackson's goal is to promote healing and deliverance through the power of prayer and faith around the world. Pastor Jackson began his ministry with approximately 10 members in a school building on the west side of Indianapolis. 
Pastor Jackson has aligned himself with a great pastoral leadership team, and as a result has become a blessing to the city of Indianapolis. In 2010, he was the first pastor in the city of Indianapolis' history to be appointed to the police merit board by Mayor Greg Ballard. He is also a 2014 recipient of the mayor 's community service award.
Pastor Jackson is the director of the far east side action coalition, a member of the board for the community alliance of the far east side (CAFE), and the President of Fervent Care Childcare and Christian Academy. He is also the founder of Clean for Green, employing Indy youth to help clean the far-eastside community.
  Sean Jointer
Sean Jointer is the owner of Righteous Enterprise a construction developer and contractor who helps reinvents communities and spaces.
Jointer is also a minister, following in the footsteps of his grandfather, Pastor Floyd Jackson, and his mother, Evangelist Anita Jointer. He serves as the Chairman of the Board of Directors for Refuge Place and is a Trustees at Rehoboth Outreach Church of the Kingdom.
Jointer is a community activist who serves the most vulnerable populations, such as the homeless, in Central Indiana. He is also passionate about alternative agriculture options, which he developed while enrolled at Manual High School's FFA agriculture program. 
Jointer uses this experience to mentor and coach a younger generation of boys through the teaching of trades and coaching with the YMCA & AAU Basketball around the country.
Jointer is a lifelong Hoosier who was educated in Indianapolis Public Schools. He is married to his high school sweetheart; they are the proud parents of a two-year-old.
 Paul Jones
Paul Jones is currently the program coordinator for the Community Alliance of the Far Eastside. His work entails mentorship, acquiring in-kind donations for self-developed programs, and assisting with the prioritization of company assets. 
Jones supported over one hundred single mothers to combat "period poverty" by collecting thousands of feminine hygiene products, deodorants, and other high-cost toiletries. He has co-authored multiple community action plans in both Anderson and Muncie.
Jones graduated from Ball State University, with a focus on education. Paul's passion for a larger transcendental community impact was catalyzed by Ball State's Master's of Urban and Regional Planning program. He currently resides in his hometown of Indianapolis.
 Fletcher Kitchell
Fletcher Kitchell is a full stack application engineer for Royal United Mortgage in Indianapolis. Kitchell is passionate about developing high-quality software programs to make life more efficient for the people who use them. He firmly believes that there is a code-based solution to problems people face, such as drawing boundaries for redistricting or connecting people living in food deserts and without transportation to neighbors with the means and desire to help in relieving this stress.  
Kitchell is passionate about his community and believes that you can use computers and artificial intelligence to address problems facing Hoosiers. He is an active member of his church, and he is regularly looking for other ways to volunteer in the community.
Kitchell is a July 2020 graduate of Eleven Fifty Academy's Software Development course and is currently living on the westside of Indianapolis with his family. 
 B.R. Lane
B.R. Lane currently serves as a regulatory, government affairs and public policy professional, where she is recognized for her ability to directly confront complex situations, assess the true nature of a challenge, and drive stakeholders toward resolution.
Lane also has extensive experience as a gaming executive and was previously appointed by Illinois Governor Bruce Rauner to serve as the Director of the Illinois Lottery, where she managed a multi-billion dollar budget, negotiated the termination of a failed private management agreement, and maintained the obligations of multi-state lottery participation during a stalled state budget. She has also represented the city of Gary before the Indiana General Assembly in its efforts to help re-imagine 30 years of gaming legislation, enabling Gary's riverboat casino to become the only land-based casino in its area.
Lane was born and raised in Gary, where she spent nearly a decade helping shape public policy in various roles, including as deputy mayor, chief of staff to the mayor, and executive director of the Gary/Chicago International Airport. 
She is a graduate of Morgan State University, a historically black college, and Harvard Law School. She lives in Northwest Indiana, serves as the newly-elected 1st District Vice-Chair of the Indiana Federation of Young Republicans, and the Vice-Chair of the United Federated Republican Women of Gary.
 James Lewis III
James Lewis is currently the President & CEO of Insight Insight LLC, which specializes in personal, professional and community affairs during one-on-one sessions, workshops, and seminars. In addition to running his business, James serves as the lead Quality Consultant for General Dynamics Information Technology. Prior to his transition, James was subcontracted with EDM as part of the implementation team that launched the Records Management Center (RMC) Extraction and Scanning Service contract under the Department of Veterans Affairs, overseeing resolution support for the nation's largest government RMC contract.
Lewis is a member of the Blexit Foundation's Blexit Student Movement (BSM), serving as their national Programming Coordinator. In this capacity, James serves as the liaison between the BSM division, the BSM campus chapters, and the university and high school administrators. Lewis consistently contributes to the mission of Blexit by actively seeking new and innovative partnership.
Passionate about the conservative movement in the minority community and its possibilities, Lewis provides perspectives and insight that will assist the team in planning, partnering and recapping programs in an effort to make a lasting positive impression in this nation.
Lewis is originally from Gary, but currently resides in Indianapolis.
 Emery McClendon
Emery McClendon of Fort Wayne, Indiana, is married to Queenie, they are the parents of three sons.
He served in the U.S. Air Force, the Indiana Air Guard, is a former Ft. Wayne Police Reserve Officer, Allen County Sheriff Deputy, and Indiana State Trooper. He is a life member of the DAV.
He organized Amateur Radio communications for the national Glenn Beck Rally For The Troops in 2003, and founded Amateur Radio Military Appreciation Day www.armad.net
After an invitation to breakfast at the White House in 2007 he became involved in politics as a speaker, Tea Party Leader, and state coordinator for Tea Party Patriots.  He organized the Fort Wayne Tea Party Rally with Dr. Alan Keyes, the keynote speaker. 
He received the Americans For Prosperity / Rightonline 2010 "Activist Of The Year," award, The Amateur Radio Dayton Hamvention Special Achievement Award, The Madison County Indiana "American" Award, The Indiana Distinguished Hoosier Award; and a U.S. Flag was flown in his honor at Flallugah, Iraq.
Emery is a Heritage Foundation Sentinel,  a member of Project21- the national association of Black Conservatives,  a member of Blexit, and a local community activist. He is also a sought after speaker at Conservative events and rallies.
Emery has visited the Whitehouse under three U.S. Presidents.  President Reagan, G.W. Bush, and Donald J.Trump.  he has visited and lobbied on Capitol Hill on numerous occasions.
Recently he has been featured as a Contributor on several radio and zoom podcast shows, as well as a contributing writer at the Freedomist, Politichicks, various newspapers around the country, the Western Journal, and many more.
 Derrick Miller
Derrick J. Miller currently works for the City of Indianapolis with the Department of Parks & Recreation. Miller works in direct services to support and build strong youth, families and the community primarily on the Southeast side of Indianapolis. 
Miller is the executive director of the nonprofit Indianapolis Communities Safe House Alliance (ICSHA) and a board member on How Tired Are You, Inc., a local gun violence prevention organization.
Miller earned his B.S. from the University of Indianapolis and his M.S. from Walden University (magna cum laude), studying Nonprofit Management & Leadership. He is a previous recipient of the Mayor's Performance Award.
Miller is also a small business owner, pastor and chaplain. He resides in Marion Country with his wife and four children.
 Willie Miller
Willie L. Miller is Gary-based professional working to make a difference in his community through public service and higher education. He brings experience in real estate, as well as teaching at the collegiate level.
As the Vice Chairman of the Gary Republican Party, Miller has led civic education initiatives with the youth poll worker program in Lake County. Prior to this action, Miller worked as an Academic Advisor with the DeVry University Advantage Academy in the Chicago Campus. Currently, he is a Professor with Oakland City University running the Master Student Master Employee program that gives opportunities to students in obtaining a National Certificate of Readiness. This program gives all individuals opportunities to obtain premium employment opportunities through workforce development in Indiana and abroad. 
Miller holds a Bachelor of Science in Business Administration from Kentucky Wesleyan, and a MBA from Keller Graduate School of Management with emphasis on marketing.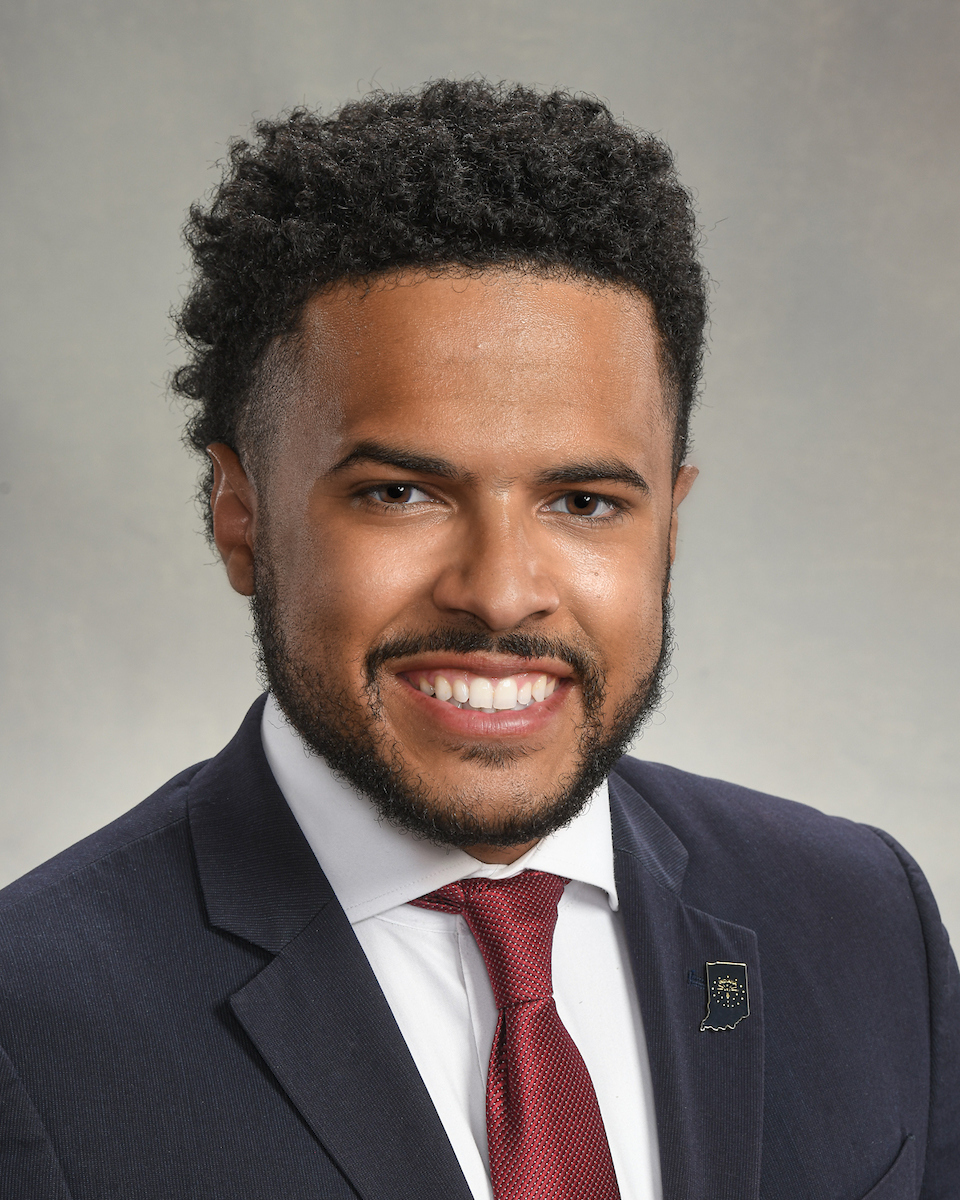 Christopher Mitchem
Hailing from the small town of Chandler, Indiana--Christopher Mitchem is a public affairs specialist with Bose Public Affairs Group's state and local government relations team.  In his role, Chris supports clients from a wide-range of industries, including transportation, alcohol policy, energy policy, and health care, by researching policy matters and developing strategies to advocate for client priorities.
Chris was recently appointed to the Marion County Judicial Selection Committee by Marion County GOP Chairman Joe Elsener to assist in selecting nominees for the Marion County courts and make recommendations to voters concerning the retention of a judge on the court. He also serves as the head of the leadership development committee of the newly established Marion County Young Republicans where he finds joy in helping develop Indiana's next generation of leaders. He is also active in the Marion County GOP, Downtown GOP and has assisted on multiple local and statewide campaigns.
In the community, Chris serves on the board of Peace Restored, a non-profit Christian organization dedicated to helping women find hope and healing from difficult life experiences. He is also an active member at his church where he leads a youth group of middle schoolers and high schoolers.
Chris previously worked as an advocacy and communications intern for the Indiana Hospital Association. In this role, he was responsible for conducting policy research, in addition to crafting messaging for key stakeholders . Chris also served as a communications intern for the Indiana House of Representatives.
Chris is a graduate of IUPUI and will begin pursuing his J.D. at the Indiana University McKinney School of Law in the fall.
 Tasha Phelps
Tasha Phelps is a nationally-recognized authority on information technology and cyber security. As a current voting member of the Indiana Executive Council on Cyber Security, she takes the role seriously, as she is often engaged in conversations of matters that directly impact the citizens of the state of Indiana.
As a result of her anti-terrorism cyber training with the U.S. Department of Homeland Security, Ms. Phelps has been called upon to support  sophisticated security solutions for clients across the country. Though Ms. Phelps' experience extends beyond managing IT and communications deployments, she is also a valued consultant, employing her unique perspective of experiences to drive innovation with public safety, systems architecture, and policy design.
Ms. Phelps says that she dedicates significant time to civic engagement because she understands the impact of being involved.   She is member of the 2007 IBJ Forty Under 40 class, a graduate of the Stanley K Lacy Leadership Series, an Indiana Torchbearer recipient, and alumni of the FBI Citizens Academy.   Recently, Ms. Phelps was appointed Precinct Committee Woman for WA062 to accompany the current position she holds as President of the Greater Indianapolis Republican Women's Club (the first woman of color to hold this position).